The technique – and e-rent's invention
Between hightech and wraith
An extremely unconventional apparition. The bottom looks like a Mars rover, the middle part sports a giraffe's neck, and it is topped by a head with 6 eyes. Knowing e-rent you might guess that the construction has something to do with filming properties, albeit in a rather unconventional sense. When the thing starts moving, everybody has to leave the room, after all. Including the landlord, the "camera operator" and any spectators.

After everyone has been shooed away, it moves independently through the corridor, turns into the living room on its own and continues on its way from there. At least as long as all rooms have been covered. One after the other, as a unit and comprehensively.

The scenario might seem a bit eerie. It leads, however, to a quantum leap in presenting real estate. For the system serves a specific purpose: it allows to film spherical videos inside an apartment.

e-rent is the first real estate company worldwide to use this technique. It is based on an innovation thought up by our tinkerers' department. The spooky thing has not only been invented by e-rent, we have also built it ourselves.


Moving rooms: e-rent's spherical videos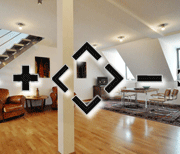 The first examples of spherical videos for apts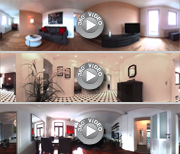 Spherivids: a quantum leap in 360°-technique